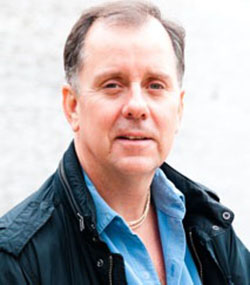 Michael started off as a Beer Sales Representative in New York City in 1980. After a year, he joined a bottled water distributor. It became the largest distributor of Evian Waters in America.
This Distributor grew into not only a bottled water distributor but also became well known as the best distributor for brands just beginning in the natural beverage and snack arena to get their foothold in the NY Metro market. He worked his way up from a Sales Representative to Vice President of Sales before he left in 1996.
When Michael step outside of working for distributors and into working with manufacturers he first worked directly with Fresh Samantha Juices and Smoothies.
Michael was responsible for introducing their product line of fresh juices and smoothies into the New York Metro market. Within three years, he had increased regional sales in the market from zero sales to over $20 million a year.
After establishing the New York Metro market, he and the Fresh Samantha team traveled throughout the eastern seaboard, opening up additional markets along the way.
Michael later became a National Sales Manager and opening Barnes and Noble college bookstores and cafés, Costco and more national key accounts. After Fresh Samantha, Michael helped establish Naked Juice on the east coast. He also helped Robert F Kennedy Jr. continue his support with the WaterKeeper Alliance and the various water keepers thought the U.S. by helping to continue to build his not for profit bottled water company, Keeper Springs for nearly 10 years. During that time, Michael also went into partnership with some old friends and created a vegan snack line, Primal Strips of Primal Spirit Foods. He knocked on each health food store from Washington DC to Maine pioneering his brand.
In mid-2011, MHBMG took on Brad's Raw Foods, who was doing direct UPS sales of approximately $150,000 to $200,000 per month. MHBMG took Brads Raw Foods into many different types of distribution channels. MHBMG built a national team of brokers for the different channels of trades, which cumulated to a zenith point of sales. Before Michael left in September of 2014, Brads Raw Foods was sales of $1.5 million a month.
In September 2014, Michael Hoare of MHBMG became the Executive Vice President of Sales for Living Intentions. The company is based in Richmond, California. Living Intentions is the 2nd top source for sprouted snacks and the number one source for sprouted nuts in the U.S.
Living Intentions was similar to Brads Raw Foods in many ways, a private raw food company, owned and operated its own manufacturing facility and Living Intentions primarily used the UPS direct delivery system as its means for distribution.
Living Intentions has two lines of product, bulk and packaged. Bulk consists of over 40 items. The packaged product has 30 SKU's. When Michael started, Living Intentions sales were 85% bulk. This was through direct sales.
Within the first year, Michael evaluated the entire packaged line of product and established a Core 14 item list. It consisted of the best items of the top selling lines. This enabled the Sales and Demo teams to focus on less and sell more. Michael then replaced and added a completely new National Broker Network. It was the best Living Intentions has ever worked with. Michael began to get the Core 14 items into every UNFI warehouse and KeHE's natural DC's.
The second year Michael added more distribution warehouses and DSD/specialty distributors by building key accounts in every region. Michael worked closely with the broker network to get the upcoming newly launched rebranded line in front of all the buyers, chains and distributors.
In October 2016, Michael was asked to come aboard as an Executive Vice President of Sales for Rule Breaker Snacks; an allergen free brownie. He helped them from October 2016 to April 2017.
In January 2017, Kohana Cold Brew Coffee asked Michael to come on board as a Senior Advisor. He held that position until April 1, 2017, when he accepted the position of President of Sales for Kohana Coffee. He is currently working full time developing a national sales team and support team. Kohana Coffee is the first cold brew coffee that is a shelf stable cold brew. It is offered in the coffee section of supermarkets and is known as the "instant coffee for the millennials". Kohana Cold Brew Coffee is never heated; always cool.
Michael also is Senior Advisor for Don't Go Nuts/Pinto Barn.